The No-Contact Rule: How to Get Your Twin Flame to Text & Call You (Works Super Fast!)
In this teaching on Twin Flame Relationships, you will learn:
✨What The No Contact (NC) Rule is and why it's the game changer in love
✨Why texting your twin first is not as harmless as many women think
✨How NC will free yourself from the shackles of love addiction
✨How NC will make your twin initiate contact with you daily and consistently 
✨How to apply The No Contact Rule right, so you don't destroy the reunion
If your twin stopped texting or hasn't sent you a text in a week or more, there is no need to reach out and remind him you are still breathing. He knows.
If you reach out to him during the separation stage, you're shooting yourself in the foot. Instead, you need to match your twin's emotional investment to manifest him to text you and ask you to hang out.
He is not contacting you because the attraction is off, most likely because you have been leaning forward in the relationship in the past.
A healed woman who values herself won't wonder if she did something wrong, and she is sure as hell not going to text him and ask what happened if he ghosts her.
A powerful way to spark his attraction is to apply the No Contact (NC) rule, which means you do not initiate contact with your twin flame for 90 consecutive days. You allow him to be the first to reach out. 
Why?
The purpose of this 90-day spiritual discipline is:
1) Give yourself enough time to heal your insecure attachment style, people-pleasing patterns, and love addiction (i.e., your addiction to feeling rejected, abandoned/unwanted, unworthy, and powerless, which will manifest the exact outcome you fear). 
AND
2) To create a superstrong sexual polarity between you and your twin flame, where his KING archetype is in awe of and in love with your SORCERESS archetype.
Result?
When you stop taking responsibility for getting in touch (which is masculine energy), he will step up in masculine energy and start taking control instead, thus resulting in him initiating contact with you daily and consistently.
A healed female twin flame (also called Manifestation Diva™) observes a man's actions and reciprocates. She keeps her "cool" by putting herself in a position to respond, not initiate.
👉When he calls, you answer (when you're available).
👉When he asks you out, you accept (if you can).
👉When he texts, you reply.
Think of it like tennis. He starts by hitting the ball over the net. You hit it back. 🎾
Leaning back means matching (not exceeding) his efforts. 
If he doesn't call, you don't bother to call him.

If he doesn't ask you out, you never ask him out.

If he texts you sporadically but doesn't move the relationship forward, then it's "game over" for him and time for you to move on.
A healed twin flame knows this, so she rarely returns her twin flame's phone call the first time. She knows he will call again if he's really into her.
Now, I said RARELY, not NEVER. If he's calling about a date or needs to reschedule, this is a RARE occasion when it's okay to call him back to discuss the details. However, sending him a text message to reply is often a better technique as it requires less effort on your part. 
Don't be scared that you will come across as "too difficult" or "high maintenance."
The male twin flame values women who demand investment. It's all part of the chase.
If you make things too easy for him, you'll never know if he really cares about you or if he's just with you to kill time (false twin). I explain more about how to manifest a twin flame reunion fast and block out false twin flames in my eBook. Download it for free below:
How the male twin flame React to the No Contact Rule
The reason it's so fucking hard for many women to implement The No Contact (NC) rule and stick to it for more than a couple of days or weeks because they are control freaks. 
To avoid feeling uncomfortable, you've learned to lean forward, reach out to him, and then excuse your action with the following thoughts:
😢 "I just missed him so much."  
😢 "I couldn't stop thinking about him."
😢 "I was so scared he would find someone else."
😢 "I was so afraid he would think that I didn't care about him." 
😢 "I feared that he would forget me." 
Can't you see? You're not being fucking nice by reaching out; you're giving in. You are just trying to take back control by being in masculine energy!
It's not your job to please men or lead relationships with them forward.
By using the NC rule, you are actually and effectively taking control of yourself and your actions and activating feelings of fear and loss within him.
Your twin flame's fear of losing you ALWAYS has to be bigger than his fear of commitment. That is how you ensure you will never be taken for granted.
Yes, he might get irritated or angry when your behavior suddenly changes towards him. He is used to having you chasing him 24/7. I like to picture these men as kids rolling around on the floor, screaming because someone refused to give them a cookie - that doesn't mean you should give him one. 🍪
Be prepared; he might test your boundaries and send texts like this:
"So, you are just ignoring me now?"
"Hey, why don't you text me?"
These texts happen when men have been stuck in feminine energy for too long. You can change this with the script I've included below.
False twin flames, on the other hand, don't want to change or do the work to keep the relationship alive. Instead, they want to be adored by their women with minimal effort on their part.
That's okay. There are plenty of women out there for them to waste time with.
But you are no longer one of them.
You are only available for high-quality men and your true twin flame. Period.
When you apply the NC rule, you will see how many dead plants you have been watering. It will become crystal clear whether the man you're currently dating is someone who truly wants to be with you or not and if he REALLY is your twin flame.
Here are three powerful responses to fire back to your twin flame when he asks you why you never initiate contact (all you need to do is pick one):
"Oh no, you're not one of those girly men who want women to chase them, are you? *wink wink*"
"Awww, I love that you like to hear from me! But I find you so irresistibly charming when you make me feel special by pursuing me… *wink wink*"
"I'm a bit old-fashioned. I want my man to take the lead. And it makes me smile when I get a text from you…"
💍Committed relationships/marriage: You never stop with the NC rule. My mother has been happily married to my stepfather for 15 years, and he is still the one reaching out first, calling her three times a day. This will make sure you keep the polarity balanced and the attraction alive. 
✈️Long-distance relationship: Here it's even more important to lean back and apply the NC to spark your twin flame's masculinity.
Let him be the one who calls and texts you first and plans and pays for the plane tickets and the dates.
He travels to see you; you don't travel to visit him. 
A high-quality man (your twin flame) with one foot in feminine energy might occasionally complain about initiating all the time. Still, if you meet him with SUGAR (compliments, gratitude, and kind words) every time he does it, he will get over it eventually.
---
Can You Reach Out to Him on His Birthday?
Bitch, don't love a man the way YOU want to be loved! Just because YOU would love him to send you a happy birthday text, romantic gifts, and flowers on your birthday does not mean he would appreciate it. Men are NOT women in hairier bodies!
My client, Sara's date, was constantly ignoring her. She broke the No Contact rule because it was his birthday. She didn't want him to believe that she didn't care. So she sang "Happy Birthday" to him and sent it as an audio message. He didn't even respond, and Sara felt humiliated.
All these heavy emotions could have been fucking avoided if she'd stuck to the NC rule, but her need to be a "good girl" was way too strong, and she ended up being ghosted.
It doesn't matter if it's Valentine's Day, Christmas, New Year's, or his birthday. The NC rule stands to protect you from becoming overinvested and overgiving.
The only time you can break the rule is when you need help.
Example:
Your car breaks down, and you need someone to pick you up, or you need someone to move new furniture into your home.
However, I still don't recommend breaking the NC rule here if you are separated and rarely talk, text, or go on dates. You will just come across as needy and desperate if you seek help or emotional support from a man who is ignoring you. Call a friend or family member instead.
BTW don't lie and pretend you need help just because you miss him! I'll see you 👁️
You can break the NC rule only if you need help and have frequently been dating for at least three months, and he is doing the work, like asking you out and making you his top priority!
👉If you are separated from a man, you share kids, and you want to get him back, you can text him for practical things related to the kids like, "C,an you drive Lucy to her dancing class on Friday?" or "Have you seen Jack's lunch box?"
👉If you're dating a guy or want to date a guy from work, make sure you only reach out first with job-related topics. Explore how you can bring more feminine energy into the work environment by leaning back to compensate for the masculine energy you need to have at work. For example, soften your body language, and tone of voice and use outfits to ooze sex appeal. 
👉If you are married or in ,a committed relationship and want to get the spark back, you can relax a little more. You can contact him first if you need help with daily grocery shopping. However, the more you lean back, your twin will automatically start asking what you want in the store and whether he can do something for you. He will feel eager to do things to make your life easier. He'll want to spoil you and treat you like his queen!
---
Break the No Contact Rule to Get Your Stuff Back?
Let's say that you you wenttwin flame's place and had a fantastic date. But after the date, he ghosts you for weeks. You forgot your sweater at his plac,e and now wonder if you can break the No Contact rule to get it back.
The simple answer is NO!
Come on! Did you "forget" the sweater as ansure you would see him again? Whether you're aware of it or not, manipulation will always backfire, so avoid it at all costs. 
At the end ofThis much bigger than the sweater. If you reach out now, he will think to himself, "Oh damn, she's really into me. Is she seriously just messaging me about a sweater? Come on."
It's not worth it. Don't use the sweater as an excuse to contact or hang on to him.
Just buy a new one and let it go...sweaters are cheap. You'll feel better when you replace it with a new one and forget about it. Then, if he tries to bring it to you later, you can say, "Don't worry ab; I it, I have a new one."
If you forget something at his place that has a high value, like your deceased grandmothers' earrings (which you can't buy in a store), ask for your shit back.
Don't call him; send him a text instead. No other conversation is necessary. If he doesn't respond or tries to play it like he's too busy to bring it to you, you can write his ass off.
Here's a script you can use:
"Hi. I left my earrings at your place. They are pearls with gold in them. If you see them, put them in a bag and leave them on your porch, and I will swing by and get them later. Thanks!"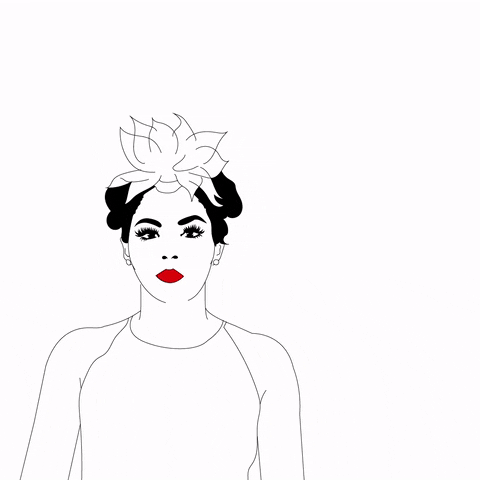 Art by xavieralopez
---
Do you want to learn more of my powerful secrets to help you heal your twin flame's commitment phobia so you can finally manifest the blissful reunion you want? 
There are a few options you can do (pick two or all of them):
1. Download my free ebook Get Your Twin Flame Back, where I share my well-proven 3 step method on how to break the separation stage and manifest a twin flame reunion in 30 days or less by embodying feminine energy. Over 5000 downloads!
2. Sign up for my newsletter, and get the latest twin flames, dating, relationship, and ascension advice to empower yourself and bring your twin closer. Unsubscribe at any time.
3. Want to learn more about the psychology of the male twin flame and how to inspire him to commit to you THE MOST DEFINITE WAY? Then, get my powerful self-study program, Make Your Twin Flame Obsessed with You, for only $7 (for a limited time)
4. Click here to read about our twin flame reunion success stories. Grab a cup of tea and binge-read what other women just like YOU have achieved with help from my tools. You're in good hands when you come to us; our track record of 500+ reunions isn't a record to sneeze at!
Just READING our testimonials will activate a "Wow, everything is truly possible! If she can do it, so can I 🤩"  attitude within you, which is crucial for high vibration so you can manifest a twin flame reunion. Some women have displayed phone texts, calls, and dates with their twins from just VISITING our high-vibrating page!
5. Have questions? Comment below or send me an email to support@vionahaven.com and my team of certified twin flame teachers will help you create a personalized step-by-step plan to manifest a twin flame reunion in this lifetime as fast as fucking possible. 
---
ABOUT MOI


Viona Kali Haven
Viona Haven is a NO BS psychic coach and the authority on twin flame relationships and 5D ascension. She is the CEO and founder of her company Manifestation Diva and has helped 500+ women to reach a twin flame reunion.
Viona Haven and her company are leading the charge in teaching twin flame relationships and building female boss leaders who are devoted to global healing and changing the fucking world. The return is a twin flame love, massive mega impact, and 6-figure brands that give back. 
Viona Haven has completed her twin flame journey and lives in full union with her twin flame. Her favorite drink is hot chocolate with whipped cream because "all the cool adults drink it".
When not coaching her students into goddam goddesses, Viona can be found barefoot in nature, sunbathing by the pool, eating salted caramel ice cream, or watching Netflix documentaries about serial killers. She is a digital nomad traveling the world in a 4x4 camper van with her partner and dog. She's never been happier.