Understanding The Male Twin Flame: Why He Asks You Out but Leaves it Vague
In this teaching on Twin Flame Relationships, you will learn: 


✨Why your twin ask you out in vague ways and what to do about it




✨How to manifest more hot romantic dates and more time with him




✨The male twin flame psychology and how to make him hear you




✨How to improve your relationship with him so you can reach a reunion




✨A powerful script to text him to make sure he asks you out more
Hot dates with your twin can be a lot of fun! But there are also some downsides to the twin flame journey, like times when he doesn't show up. Ouch!
Fear not! If you find yourself in love with a flaky twin flame who likes to keep it "vague" and "going with the flow," there are ways to ensure he will ask you out and show up for planned dates in the future!
So let me walk you through an example...
Your Twin Flame tells you he wants to take you to a restaurant on Friday. 
You feel excited all week and maybe buy a new dress for the date. 
You are sharing the news in twin flame groups on Facebook.
On Friday, you dress up, do your make-up, and put on the perfume you know he loves.
But then nothing happens. The hours pass, and you haven't heard from him. 
You feel awful and have no clue how to react at the moment. 
Do you reach out? Do you wait it out? Is it OK to cry?😭
You send him a text message wondering what time you should meet.
He doesn't respond to your text, or the phone call you make to him two hours later.
You feel pissed off – because you really wanted to see him, but also because it's too late to make plans with someone else!
Friday is ruined, and you feel like a fucking fool.
Why would he ask you out and then suddenly change his mind?
You are a nice woman, and you totally understand if something important came up and he had to cancel. 
But is it too much to ask that he let you know about the change of plans? 
You don't know if you should act "cool" like you don't care or speak the fuck up and tell him he can't treat you like this poorly.
If you have even been in this situation with your Twin Flame - you are not alone. I've been there, and so have many of my clients.
Here's the thing: Stuffing your feelings down and acting "cool" will not work. Instead, it will create resistance in your vibe as you hold back your true feelings, which does not inspire him to come closer.
Sending an angry message telling him he can't treat you like this or that he better show up on planned dates in the future will not work either. 
Judging your Twin Flame for his behavior (even if he IS treating you like shit) will make him feel bad and withdraw. There are better ways to handle this! I explain more about how to manifest a twin flame reunion fast in my eBook "Get Your Twin Flame Back". Download it for free below: 
---
4 Steps to Make a Twin Flame Show Up on Planned Dates
🔥Step #1: Understand How Men Work
Men do what they want… all the time. They change their mind if they don't feel like doing something.
Sometimes they half-book with different women or friends and decide at the last minute in case something more fun comes up. I know that sounds cruel, but it's the truth. You can use this knowledge as a secret weapon.
In his world, he thinks the date is not decided if you haven't heard from him with more details like time and place. So it's more of a "maybe date."
Next time, when he texts you he wants to see you and asks if you are free, tell him this... 
Aww…I would love to see you. Right now, I'm not booked for Friday.
Meet his maybe with a maybe. Be cool and lean back. 
This text message is so much more attractive than sending him an answer like this:
Hi David! Funny, I was just thinking about you and you texted me at exactly 11:11... ♾️✨It must be the twin-flame telepathy lol. 😍🤣I don't have any plans at all, so I am available the whole weekend! Friday and Saturday work best because I have dinner plans with my mom on Sunday! 😇 But I'm flexible so whatever works for you is fine with me! Let me know what day works. I can't wait to see you again! 🥰❤️
Notice the difference?
You might think the first message is too cold and "bitchy", but in romantic relationships, this shorter response will pull him closer to you!
In today's dating world, standing out is key. Most women will go with text messages 2. But knowing how to text empowered feminine messages, and how to seduce him through texts is crucial to destroy the separation phase and manifesting a twin flame reunion. 
The second text message example is too much too soon.
You are showing him:
➡️ low-value behavior, like giving him unnecessary information and using too many emojis.
➡️ that your whole world revolves around him, which is giving him way too much power.
Too much information kills the mystery and the buzz. 
The second text message is an unhealed Twin Flame response and will likely manifest a scenario where he is withdrawing and ghosting you.
I know you think you are nice by making it easy for him (because he is stressed at work, his mom is sick, or whatever bullshit excuse you want to put in here 🤣), but being nice kills the attraction.
Men are hunters by nature. Dare to let him work to get your attention by leaning the fuck back!
You are the prize and golden trophy. He is supposed to do the work to fit YOUR schedule, not the other way around!
A twin flame diva meets his maybe with a maybe by sending him the first shorter text message instead.
This script will activate his masculine energy (as it's more feminine and mysterious), making him more eager to ask you out.
If your twin isn't asking you out on a REAL date this time (which means that time, date, and place is decided), don't see it as a date at all.
Instead, see it as a little bonus that might happen. 
---
🔥Step #2: Have An Kickass Fun Backup Plan
Your Twin Flame is not stupid.
He knows that you are free as a bird if he doesn't follow through with his plans.
So sitting at home, stalking his social media pages, and waiting for his calls is a major attraction killer!
Telepathy is real, and he can FEEL that you are an obsessed stalker even if there is no contact between you two. 
A Twin Flame Diva always has a lot of fun plans because living a passionate life lets her lean back naturally. When you have so many fun things going on in your life, you will not care if a date is canceled. 
When you agree to a date with your twin flame, make sure you have a backup plan.
Check-in what friends are doing, what movies are playing at the cinema, or what parties are in your neighborhood.
It doesn't have to be something big. Scheduling a fun home evening with a pedicure and a luxury bubble batch can be a great backup plan.
A backup plan will be your safety net. 
You will feel less needy and attached knowing you have something else to look forward to.
If a date is canceled, it doesn't destroy you emotionally because you are now going to that fabulous party instead.
When you don't focus too much on your twin flame, you will have a high vibe no matter what he is doing.
Checking a man's social media CAN'T be your only hobby!
You are meant to live such a passionate life that you don't have time to check your phone for missed texts and calls from a guy! You become incredibly attractive to him when you create other hobbies and passions and have things that bring you pure joy.
It's the same in reverse: the more a man appears interested in OTHER things, the more we want HIM! 
---
🔥Step #3: Have High Standards
Create a boundary that works for you. 
How much "maybe space" do you feel comfortable giving a man? 
24 hours? 48 hours? 72 hours?
Make some rules that work for you, so you feel good booking dates.
Your standards are unique because you are unique. 
There's no right or wrong place to set your standards; the important thing is that they feel good to you. 
For example, if you haven't heard from your twin flame two days before the supposed date, you book something else.
I know that can be a challenging thing to do.
You are so used to putting your twin's needs first. You allow him to come and go as he pleases and open your schedule for him the second he returns.
But that's a big mistake. You will be taken for granted.
If he doesn't respect you and treats you like the second choice, it's up to you to clear up the energy with boundaries!
Men only treat you the way you allow them to treat you.
The clearer you are about your standards and know what treatment you allow and don't allow from your twin, the better he will treat you. 
You don't even have to say the standards out loud. They will appear in your aura, and your twin will naturally respond.
If he asks you out after the deadline you have decided (let's say he wants to meet in a couple of hours), you can text him...
Bummer! I'm already booked. I will need 48 hours notice in the future.😏
If he snoozes, he loses. Trust me, he will get the hint. 
Making a boundary like that shows him you are a high-value woman he needs to fight for without making him wrong.
A true Twin Flame will understand that he needs to make an fucking effort to impress you... and he'll start doing it!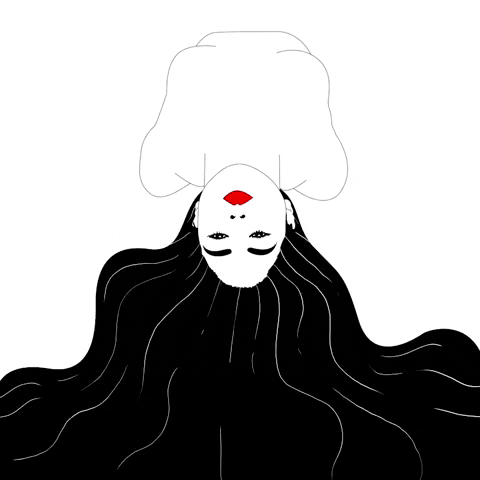 Art by xavieralopez
---
Do you want to learn more of my powerful secrets to help you heal your twin flame's commitment phobia so you can finally manifest the blissful reunion you want? 
There are a few options you can do (pick two or all of them):
1. Download my free ebook Get Your Twin Flame Back, where I share my well-proven 3 step method on how to break the separation stage and manifest a twin flame reunion in 30 days or less by embodying feminine energy. Over 5000 downloads!
2. Sign up for my newsletter, and get the latest twin flames, dating, relationship, and ascension advice to empower yourself and bring your twin closer. Unsubscribe at any time.
3. Want to learn more about the psychology of the male twin flame and how to inspire him to commit to you THE MOST DEFINITE WAY? Then, get my powerful self-study program, Make Your Twin Flame Obsessed with You, for only $7 (for a limited time)
4. Click here to read about our twin flame reunion success stories. Grab a cup of tea and binge-read what other women just like YOU have achieved with help from my tools. You're in good hands when you come to us; our track record of 500+ reunions isn't a record to sneeze at!
Just READING our testimonials will activate a "Wow, everything is truly possible! If she can do it, so can I 🤩"  attitude within you, which is crucial for high vibration so you can manifest a twin flame reunion. Some women have displayed phone texts, calls, and dates with their twins from just VISITING our high-vibrating page!
5. Have questions? Comment below or send me an email to support@vionahaven.com and my team of certified twin flame teachers will help you create a personalized step-by-step plan to manifest a twin flame reunion in this lifetime as fast as fucking possible. 
---
ABOUT MOI


Viona Kali Haven
Viona Haven is a NO BS psychic coach and the authority on twin flame relationships and 5D ascension. She is the CEO and founder of her company Manifestation Diva and has helped 500+ women to reach a twin flame reunion.
Viona Haven and her company are leading the charge in teaching twin flame relationships and building female boss leaders who are devoted to global healing and changing the fucking world. The return is a twin flame love, massive mega impact, and 6-figure brands that give back. 
Viona Haven has completed her twin flame journey and lives in full union with her twin flame. Her favorite drink is hot chocolate with whipped cream because "all the cool adults drink it".
When not coaching her students into goddam goddesses, Viona can be found barefoot in nature, sunbathing by the pool, eating salted caramel ice cream, or watching Netflix documentaries about serial killers. She is a digital nomad traveling the world in a 4x4 camper van with her partner and dog. She's never been happier.